Care for the community can start sooner than you think. Kids under age 10 can get in on the action, make an impact, and influence their peers to participate too. While not every community service project is suitable for young kids, there are plenty of ways kids in the "single digits" can do something significant. Give your kids a push in a positive direction and you will see how they shine as they support the community. There is always a chance to make a difference, and it can start as soon as your kids are ready and able to lend a helping hand.
Assisting with Animals
Kids can commit to community service by assisting with animal care. There are so many shelters that need support, and many allow kids to come in to help improve the animals' quality of life. Be it cleaning cages, feeding and grooming, or even basic administrative or adoption assistance, when kids are around these animals, the effects are immediate. Scouts and youth groups can get involved with the Animal Welfare Service Patch Program® from Youth Squad® and MakingFriends®.com. As kids progress through the levels of the program from Friend to Volunteer to Advocate, they will become more influential as their involvement grows. Many different types of animals benefit from the kids' service, and the results are wonderfully rewarding. See more of our community service program options and where you think your child may fit in best.
Environmental Efforts
Caring for the Earth is something that is an ongoing, ever-present effort. Every bit of energy counts, so when kids can do their part in protecting the planet, not only do they learn, but they will lead the way towards a better tomorrow. Kids can start young by pitching in with community clean ups, implementing or furthering recycling programs in their schools, planting trees for cleaner air, and more eco-friendly efforts. Treating the Earth well starts with education, then kids can take those valuable lessons and bring them to life. Their troop or group can start a community collaboration by organizing outings to clean area parks and beaches, creating carpooling programs for parents and kids to combat pollution, and reusing bags, bottles, etc. to cut down on waste. The Environmental Patch Program® from Youth Squad® and MakingFriends®.com makes it easy for adults to guide kids through the step-by-step instructions.
Helping the Homeless
With many areas seeing a rise in the homeless population, kids can feel discouraged or confused as to what they can do to help. But one thing that is always appreciated is a care package – filled with food, self-care items, clothing, etc. Troops and groups can set up fundraisers (if your organization allows) or collection bins for people in the area to help with their efforts. With what's collected, the kids can put together care packages, deliver them to shelters or even directly to those on the street (chaperoned), and see how their selflessness is so important to other human beings. Compassion is always at the core of community service. Help your kids learn how to make a help the homeless with the Shelter Patch Program® from Youth Squad® and MakingFriends®.com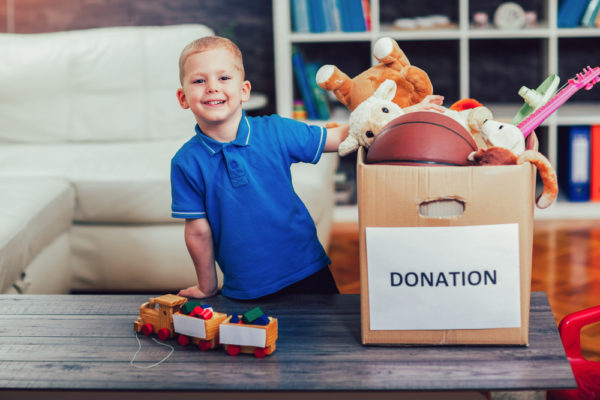 Toys for Joy
Kids who are grateful for what they have will benefit from stepping back and seeing the big picture. When they understand that not every child is as fortunate, doing something special for them is a blessing as well as a big help. And not every gesture needs to be grand. Small sacrifices add up such as donating toys and clothing to shelters. The children there would also love to form friendships that they may not have otherwise had the chance to develop. Communities are made up of people of all ages, and kids helping kids is an honorable thing.
Aiding Elders
Speaking of all ages, the elderly community often needs special attention. Some seniors reside in assisted living facilities that rely on members of the community to pitch in however they can. Your child's troop or group can find one that's local and looking for kids to come by and spend time with the seniors. Some may not live near family, so spending time with youngsters gives them an opportunity to share wisdom and a smile. From performing for the seniors to helping serve meals, there's always something to do to make their situation more stimulating. The Community Advocate Patch Program® and Outreach Advocate Patch Program® from Youth Squad® and MakingFriends®.com both offer a variety of opportunities to aid elders in your community.
Get your kids excited about bettering their community by being part of progress. Starting early means they have more years down the road to make a real difference.