Summer is a time for family fun but it can also be chance for families or groups to enrich their lives. This summer incorporate community service into your summer time fun. You'll be surprised how much the kids will enjoy it.
Enrichment Ideas
Does your summer time fun include your family, scout troop or camp, going to beach, lake, river, or stream? Before hitting the waves or splashing around, consider a waterway or beach cleanup. Your best bet is to clean up while they still have energy at the beginning of the day. Clean the area you plan to leave your stuff for the day and the area surrounding it! Have fun and enjoy the day!
At some point the kids are going to want to take a break to have a drink and a snack; have them take notice of the plants and possible wildlife in the area. Play "I-spy" to encourage them to notice more detail and relax for a few more minutes. Keep those toddler and pre-k kids involved by having them draw or color pictures of sea life. At the end of the day be sure to leave your area better than you found it.
By adding these activities to your day, you have fulfilled two of the requirements for the Youth Squad® Waterway Clean Up patch or Shore Clean Up patch. By keeping the little ones involved, they too, can earn the Sea Life Helper patch. As a result, you and your group are well on your way to leveling up your summer time fun.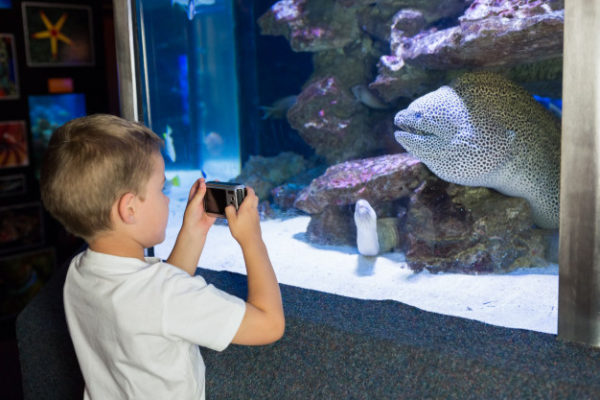 Add to the Fun!
Want to extend the summer time fun of the waterway? Visit your local aquarium or fish hatchery! Play "I-spy" again and maybe they will see some of the same things they saw during your waterway play day and they will see something new! While you are there, have the kids ask the experts about plastic straws. They will be amazed at the effects they have on sea life.
As a follow up to this trip, have the kids ask the adults in their families what they used instead of plastic straws; they will surely be surprised. As a group, consider some alternate ideas for the plastic straws and start a campaign to reduce the use of plastic straws in your home.
The field trip and plastic straw campaign will fulfill two requirements in the Sea Life Protector Patch from Youth Squad®.
Including the Older Kids
Have older kids or teens in your group or family? They can research the effects of plastic straws and trash in the oceans, either on the internet or by going to the library. Have them visit a few businesses that use plastic straws in your community and try and convince them to switch because sea life will be glad they did! By expanding this to the older kids, they will be well on their way to earning the Youth Squad® Sea Life Advocate Patch Similarly, consider allowing your teenagers to volunteer at the aquarium or fish hatchery. Turn that summer time fun into a unique experience for your teen, and therefore an excellent addition to their resumes and college applications.
Get in on the Fun Yourself!
In addition, if you are Mom, Dad, camp counselor, scout leader- as a leader of your group, you are entitled to earn these patches, as well! In short, did the summer time fun create in you a passion toward protecting sea life? Consider 'working' for the cause and earning the Sea Life Delegate pin. Your kids will be thrilled to work on a project with you as a team.
This year, turn your summer time fun into a sea life/waterway protection theme. Level up and guarantee that this summer will be one to remember. The unique aspect of tying your activities to the Youth Squad® program is that all kids and adults can participate, and subsequently, everyone will be proud to display the patches that they earn. As a group, you can focus on this one unifying theme as you work together to make the world a better place.