Perhaps you've been in a situation where you have felt confident in your abilities and your decisions. Maybe you were asked to take charge of a project at work because someone expressed that you excel at a specific skill. Maybe you accomplished a personal fitness goal after dedicating months of training. Whatever the circumstance may be, at that moment, you were empowered. When someone is empowered, they feel confident about their potential to succeed.
Empowerment is influenced by our relationships with others and a variety of events. This is especially important to know of children who are shaped by their early life experiences.
Why do we empower kids?
Childhood is a crucial period in the development stage. A child's beliefs and actions are strongly influenced by their conversations, relationships, and activities. Empowering kids has the potential to transform lives, but empowerment does not come naturally. As adults and leaders, we empower kids to help them reach their full potential and hopefully inspire them to help others. When we empower children, we prepare them for life-long success in their work and close relationships.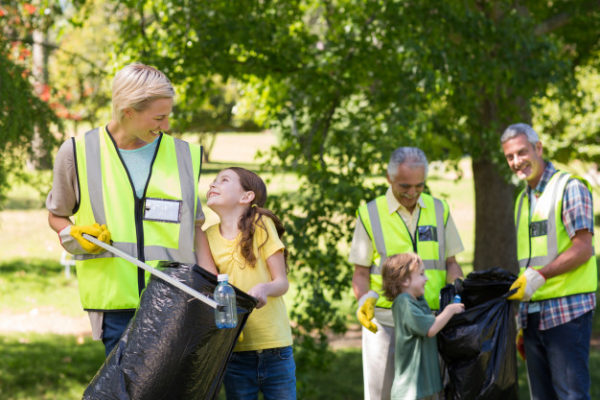 How do we empower kids?
Volunteer work is a powerful catalyst that fosters feelings of empowerment. Through volunteer work, adults and volunteer leaders have the opportunity to promote respect, self-assurance, as well as responsibility among other things. The following behaviors will help you empower kids while you're volunteering:
1. Listening
Active listening is crucial for building trust with young volunteers. Active Listening is opposite of passive listening and active listening unlocks a space of open communication which prompts feelings of trust, respect, and creativity. It's a common faux pas to want to say what's on our minds without thoughtfully considering what a child is trying to tell us. Listen to a child's ideas or concerns about a volunteer project to improve communication skills and set healthy guidelines for how a child should communicate with others.
2. Encouraging
Don't tell a child what to do when you're working on a project. Encourage them to try on their own. When you tell a child what to do, you are giving a command and thus providing little room for individuality and creativity. There are a few ways you can encourage a child, such as providing them with positive feedback on one of their past achievements, expressing your genuine interest in learning from them, and also asking them to share how they accomplished something. Encouraging kids provides a valuable opportunity for them to teach others and gain confidence in their skills.
3. Challenging
We can empower kids when we ask them meaningful questions that require their opinions and ideas. Challenging that is not meant to confuse or belittle, but to prompt engaging conversations where a child's input is necessary. Challenge kids by asking for their opinions about the volunteer process and also the specific project. It will show them that their ideas are valued. Additionally, it will enable them to enter other situations with the confidence to express their opinions.
4. Helping
Helping kids and encouraging them to ask for support on a project shows that they don't need to handle complicated tasks or struggles on their own. When we help a child who might be struggling, we show that they can still succeed if they ask for guidance. Helping a child while volunteering permits them to ask for help in a variety of environments, including school and extracurricular activities. This will enable them to improve different skills.
5. Teaching
When you demonstrate how to do something before you ask a child to dive into the task, provide them with a blueprint on how to approach a situation. When you teach, give a child the determination to succeed. Teaching children a new skill provides them the courage to learn other skills.
Volunteer work empowers kids to feel confident about their capabilities. Do you feel ready to empower children within your community? See how you can make it happen with our Youth Squad® program.