This patch and all program supplies are available from our partner site MakingFriends®.com.

Suggested Prerequisite
Completing the Dance Partner Patch Program® is a suggested prerequisite for earning your Fitness Volunteer Patch. Your experience will help provide you with the knowledge you'll need to participate in a fitness volunteer project. You can also opt to complete the Dance Partner requirements during the time you earn this patch.
Meeting Download
Download this word search to learn why physical activity is important.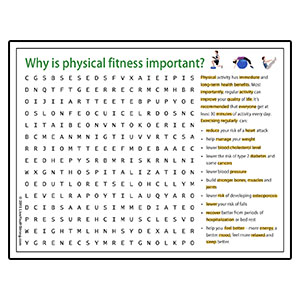 —————————————-
Requirement 1: Research It!
Warming up is a good idea before exercising. It gets your blood pumping and your body ready to do aerobic exercise. Watch this video below to learn how to do a quick warm up.
—————————————-
Requirement 2: See It!
Watch the two videos below to find out how you can do exercise with all types of differently-abled people without any special equipment. Just make sure to warm up and cool down. Adding music to an exercise always makes it more fun!
There are many types of exercise. If you have the space and equipment all types of sports are good exercise including jogging, bike riding, jumping rope, swimming… even walking is good exercise.
Contact local hospitals, assisted living centers, senior centers, preschools, daycare, after-care programs, little leagues or anyone else you can think of who may want help with fitness activities.
Things to find out:
Are they in need of volunteers to to do fitness activities?
What can you do with them? Go for walks? Dance? Exercise? Sports?
Are their age restrictions suitable for you/your group?
Is the location suitable for commuting from your location?
Is this on-going or one-time?
Can you commit to the needs?
Are there specific dates/times that will work for you/your group?
—————————————-
Requirement 3: Do It!
Participate in a fitness volunteer service project. Here are some ideas:
Volunteer to teach kids line dancing at an aftercare program.
Teach your little brother or sister to ride a bike.
Volunteer at a fitness camp for little kids.
Volunteer to help out at the Special Olympics
Take up couch potato bowling.
Exercise dogs at a local shelter
Take senior citizens for walks.
Become a Little League volunteer.
Shoot hoops with a grandparent every Saturday.
Play soccer with special needs kids.
Motivate an overweight friend or family member to exercise with you.
—————————————-
Requirement 4: Review It!
Discussion Points:
Do you think your project was a success?
Would you do it again?
How could you improve on it?
Congratulations! You have earned the Fitness Volunteer patch. It can be purchased at our partner site MakingFriends®.com.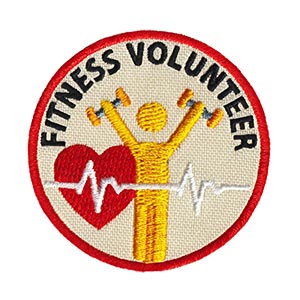 Did working on this Patch Program® give you some ideas for earning the Wellness Advocate patch?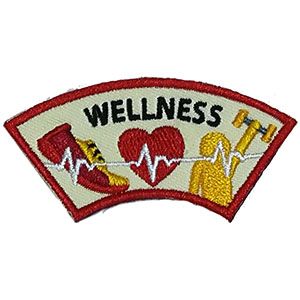 See all our current Volunteer level Patch Program®s:
Related Fun Patch Ideas:
Note: Many of the links provided to assist with completing our Patch Program®s are external and do not imply an endorsement or recommendation. At the time of publication, external content was vetted to the best of our ability. Your views and ideas may vary and we do not intend for you to substitute our opinions for yours. Research the topic thoroughly before beginning a project. As always, make sure children access the internet only under safe-surfing conditions.
©2019 youthsquad.makingfriends.com