.
This Volunteer for Veterans patch and all program material is available from our partner site MakingFriends®.com.
Suggested Group Activity
Make patriotic bookmarks for veterans or active service members. Mail them or deliver them them personally. FreeKidsCrafts.com has free printables for the bookmarks shown here.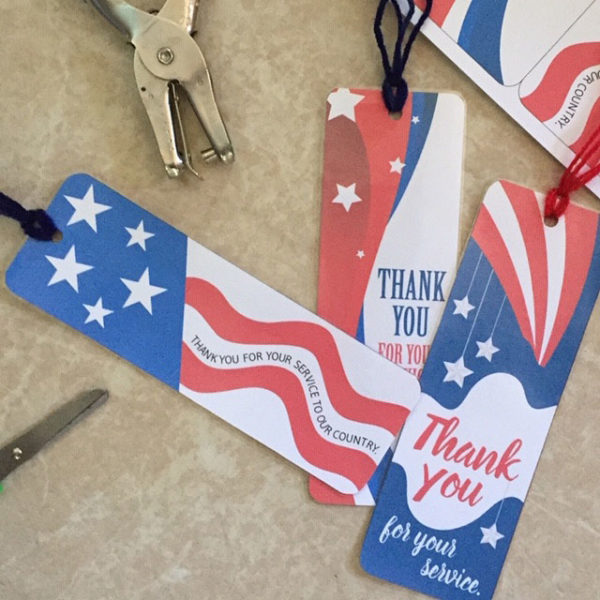 Suggested Prerequisite
Completing the Military Appreciation Patch Program® is a suggested prerequisite for earning your Volunteer for Veterans Patch. Your experience will help provide you with the knowledge you'll need to volunteer at your local veterans center. You can also opt to complete the Military Appreciation requirements during the time you earn this patch.
Meeting Download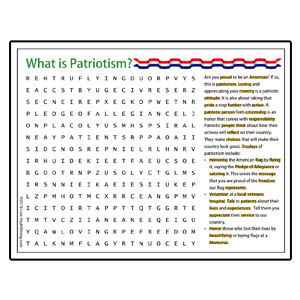 —————————————-
Requirement 1: Research It!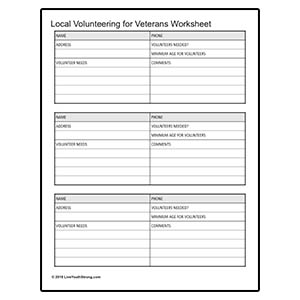 Research Points to Consider:
Are they in need of volunteers?
What do they need help with?
Are there age restrictions suitable for you/your group?
Is the location suitable for commuting from your location?
Is this on-going or one-time?
—————————————-
Requirement 2: See It!
Using your research, choose one or locations to visit. Talk to the volunteer coordinator to find out if you are a good fit for them.
Discussion points:
Do you need any special training?
Do you need special tools?
Can you commit to the needs?
Are there specific dates/times that will work for you/your group?
—————————————-
Requirement 3: Do It!
Participate in a volunteer project for veterans.
Some Ideas:
Help a local vet by doing chores like yard work, housework, grocery shopping, or running errands.
Beautify a military memorial.
Participate in a program to help homeless vets. Helpful link: Homeless Veterans
Fill an open volunteer postion. Helpful link: Volunteer Search
Volunteer to do repairs or maintenance at VFW hall or American Legion post.
Volunteer to read to older veterans.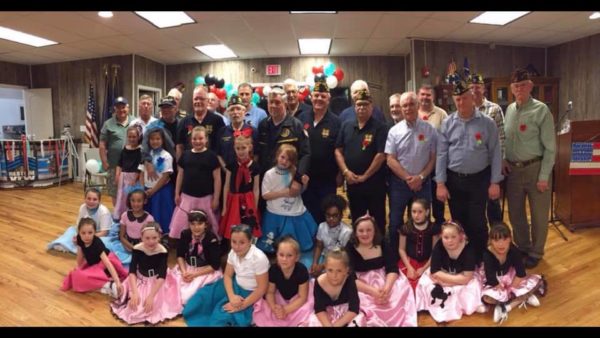 Volunteer to spend time with disabled veterans.
Offer to watch a veteran's children while they look for work.
Volunteer to help a military family with childcare, chores or yard work when a family member is deployed.
—————————————-
Requirement 4: Review It!
Discussion Points:
Do you think your volunteer experience was a success?
Would you do it again?
How could you improve on it?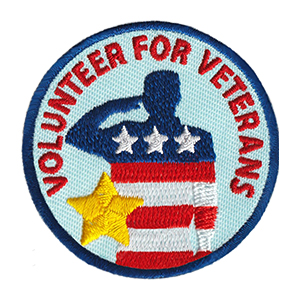 Did completing this Patch Program® give you some ideas for earning the Patriotism Advocate patch?
See all our current Volunteer level Patch Program®s:
Related Fun Patch Ideas:
Note: Many of the links provided to assist with completing our Patch Program®s are external and do not imply an endorsement or recommendation. At the time of publication, external content was vetted to the best of our ability. Your views and ideas may vary and we do not intend for you to substitute our opinions for yours. Research the topic thoroughly before beginning a project. As always, make sure children access the internet only under safe-surfing conditions.
©2019 youthsquad.makingfriends.com